Rob Grosser
Biography
Rob is originally from Adelaide where he played with various bands before moving to Melbourne then finally settling in Sydney.

1977 - 78 Played in Adelaide
Riff-Raff

1978 - 81 Moved to Melbourne
Played with punk band
News

Recorded with USA producer
Kim Fowley,
(
Kiss. The Runaways
etc) Released album "The Lonely Boys"
Joined
The Aliens
–Toured nationally supporting
The Police, UK Squeeze
etc. Released Album "Translator" having two top ten singles, "Confrontation & "Follow That Girl"
1981 Sydney – Audition for
Sydney Conservatorium Of Sydney
and was accepted. Left The Aliens to study Classical Percussion. Won Scholarships for next 3 consecutive years.


1982 Kim Humphreys Band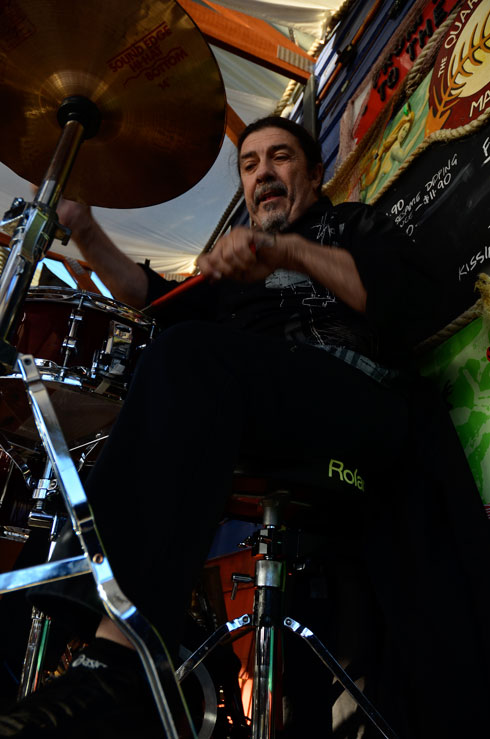 1982 Great Dane – Toured NSW and released self titled CD " Great Dane"
1982-1988
Jeff St John

1984 Boss – Toured nationally.
1985
Mirrored Image
– Toured Australia & overseas
1989 Co-Wrote with
Joy Smithers
(Actress All Saints, Bangkok Hilton etc) "Young Love" which was on ABC Mini Series Stringer as well as
Wendy Matthews
and
Kate Cebrano
album "You've Always got the Blues". "Young Love" was the first single released and soundtrack received an
ARIA
Award in 1989.
1991
Grog 'n Grumble

1992
Spectactular Feets
– CD released "Meet Me At The Station"
1992
Lightning Ridge
- CD released "Such Is Life"
1993
Gina Olgilvie
- Produced /Co-wrote songs/Played Drums & Percussion on CD "Storm"
1994
Dave Stevens
– Produced & Played drums on CD "Kookoon"
1995
Napoleon Blown Apart
- Toured and released CD "Napoleon Blown Apart"
1996
Keith Alan & The Breakers
–Released CD "The Stealer"
1997
Wayne Gillespie & Passionfish
toured nationally released self titled CD. "Wayne Gillespie & Passionfish"
1998
The Narcs
– Toured New Zealand
1998
Blue Sierra
– Toured and released CD "Blue Sierra"
1999 Played and recorded with
Chris Turner & The Tomcats

1999
Famous Blue Raincoat
– Toured New Zealand
1998-2000
Tim Gaze & The Blues Doctors
– Toured and released CD "Blues Remedy"
2000 Recorded
Steve Bevis
CD
2000
Jan Preston
– Played Blues festivals and Sydney venues.
2002
The Hoochie Coochie Men
.

Rob has taught music business as well as music technology at Wyong Tafe, Quakers Hill Tafe, Shellharbour Tafe and Northholm Grammar High School. He has also been teaching music at Morisett Psych Hospital and Kariong Maximum Security Centre. Rob is currently head music business teacher at
Ourimbah Tafe