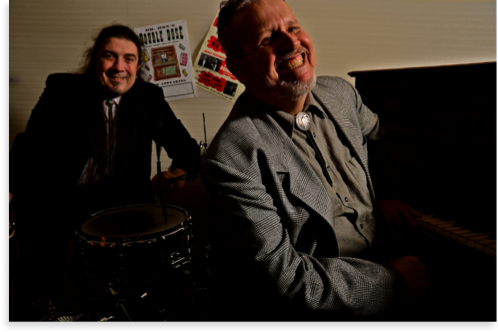 Blues duo, Dr. Don's Double Dose, return to Sydney after their second place win at this years International Blues Challenge put on by the Blues Foundation in Memphis, Tennessee.
In January this year, Sydney blues duo, Dr. Don's Double Dose, travelled to the southern states of the USA to be part of the International Blues Challenge in Memphis. They made it to 2nd place which is unusual, they were told, for first time participants at this event.

In order to take part in the I.B.C., blues musicians need to have won their local region blues society's Blues Challenge. Dr. Don's Double Dose, who won for NSW and ACT, were competing against 84 other blues acts in the solo/duo category in Memphis. Dr. Don's performances were in The Handy Blues Hall, one of the local bars on the famous Beal Street in Memphis.

After two quarter final performances heard by different sets of judges, they made it to the semi-finals. They then made it to the finals as one of eight acts which was held at the Orpheum Theatre in Memphis, to a packed house, and won the 2nd place with
Ray Bonneville from Ozark Blues Society of Northwest Arkansas winning first place.
The numbers of musicians, over 700, from the States and from other parts of the globe as well as other industry people attending, made it clear that blues music is well and truly alive and kicking.
One of the winning songs they played was a funky message song they wrote entitled Don't Let The Drillers Into St. Peters. This song tackles the contentious issue of the NSW government allowing coal seam gas drilling to go ahead in Sydney's urban environment.

The I.B.C. was put on by the Blues Foundation, which is an international organization dedicated to preserving blues music history and celebrating recording and performance excellence. Also it is supporting blues education and ensuring the future of this uniquely American art form. Along with the International Blues Challenge it also organizes every year the, Blues Music Awards, Blues Hall of Fame, and Keeping the Blues Alive Awards and other initiatives that help support blues and its musicians. It is based in Memphis which has been the centre for blues music since the1910s for the delta region and southern states of the USA.
More

Dr. Don's Double Dose - live tracks from the Conjure Bag CD