Don Hopkins Biography
After performing originals and covers in bands and playing in folk clubs through his high school years Don played in the jug band,
Cosmo Hamfat Entertainers
that performed at festivals and venues in the early 1970s.

From 1974 he led the
Don Hopkins R&B Four
who appeared on an EP and performed live on
2JJ
(now 2JJJ). During this period Don studied art at the
National Art School
and musically directed for ABC education and drama radio programs.

Don continued performing through the 1980s in various lineups and began teaching piano. In the 1990s Don led the successful band
Donny Hop & The Kings Of Bop
. Out of this grew
Gumbo Fever
a duo with
Mal Green
drummer formerly with
Split Enz
. The CD "Live At The Schuss Bar" was recorded. Don also promoted and organised live music for the
Empire Of Annandale Hotel
turning it into Sydney's leading blues venue during the 1990s.

After 2000 Don teamed up with drummer
Rob Grosser
(
The Aliens, Tim Gaze, Jon Lord
) forming
Dr. Don's Double Dose
to continue the piano and drums format. Their CD "Conjure Bag" was released in 2004.

Don has been an integral part of
Jim Conway's Big Wheel
since it's inception in 2002 with 2 CDs "Little Story" and "Share This Life" that feature many tracks with Don's songwriting, singing and playing.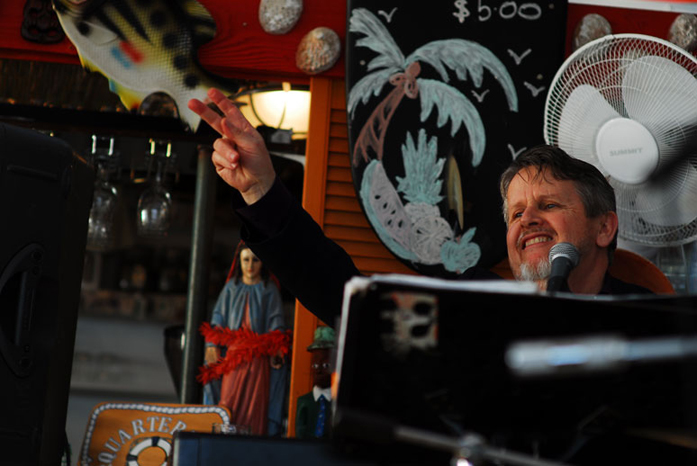 Festivals and Recordings
Some of the festivals and venues that Don Hopkins has performed at one or more times and other notable appearances:

International Blues Challenge
Beal St Memphis, USA

World Body Painting Festival
Seeboden, Austria

Woodford Folk Festival
, QLD

Thredbo Jazz Festival
- Thredbo NSW

National Folk Festival
- Canberra, ACT

Port Fairy Folk Festival
- Port Fairy, Victoria

Byron Bay Blues Festival
- Byron Bay, NSW

ABCTV
-
Live At The Basement
- as part of Jim Conway's Big Wheel

ABC Radio National
"The Planet" with
Lucky Oceans
- as featured artist
Backed legendary sax honker,
Big Jay McNeely

and Chicago blues harmonica great,
Carey Bell
(USA) - The Basement, Sydney
Support
Beau Jocque & his Zydeco High Rollers
(USA)-The Basement, Sydney
Backed and supported
Kenny Blue Ray/Don Griffin
(USA)-NSW tour

Tamworth Country Music Festival
- Tamworth, NSW

Australian Blues Music Festival
- Goulburn, NSW

Manly Jazz Festival
-Manly, Sydney

Great Southern Blues and Rockabilly Festival
- Narooma NSW

Brigetown Blues Festival
-Brigetown, Western Australia

Thredbo Blues Festival
- Thredbo NSW

Bellingen Jazz Festival
- Bellingen, NSW

Taranaki Arts Festival
- New Zealand

Bay of Islands Festival
- New Zealand

Sweetwaters Festival
- New Zealand

Queenstown Winter Festival
- New Zealand

Happy Valley Racecourse
- Hong Kong

Midday Show
Channel NINE with Kerry-Anne Kennerley

Doug Mulray's
2WS FM Drive-time and Webcast Show


Some CDs Don Hopkins has appeared on:
Mad Love -
Big Top Blues Band
- 1995
Lovers Highway -
Dave Debs
- 1995
Fine Company -
Clelia Adams
- 1995
Leaving The Island -
Al Ward
- 1996
You Gotta Reap -
The Mighty Reapers
- 1996
Room Service -
The Bellhops
- 1997
Live At The Schuss Bar - Gumbo Fever -Duo with
Mal Green
(Split Enz) - 1998
Sippin' and Slidin' -
JR & the Bar Kings
- 1998 - Keys and Vocals.-
Chain Award

Baby Blue -
Kerrie Sweeney
- 1999 - Keys/Piano/Organ; Vocal Duet with Kerrie on 'Since I Met You Baby'
As Long As I've Sung The Blues -
Kate Meehan
- 2000 - Keys/Piano/Organ;
Vocal Duet with Kate on 'Let's Go Back'-Words & Music: Don Hopkins
Live and Too Loud -
Kenny Blue Ray
(USA) and
Gumbo Fever
2001 Full Moon Records
Wire Fire -
Wards Express
2001-Full Moon Records
Soul Shaker-
Kate Meehan
2002 Keys/Piano/Organ/Piano Accordion;
Vocal Duet with Kate on 'Soul Shake'
Sydney Basin Blues Live - Vocals/Piano on three tracks - with
Tim Gaze
and
Rob Grosser
- 2003
Little Story -
Jim Conway's Big Wheel
2003 - Vocals/Piano/Organ/Piano Accordion
- includes five Don Hopkins compositions. -
ARIA Award Nomination
2004
Women In Blues -
Margret RoadNight, Sally King, Wendy Saddington, Kate Dunbar, Jeannie Lewis

- 2003- Piano/Organ Backing Vocals - Full House Records
Six Lane Highway -
Dameon Coen
-2004 - Piano - Black MarketMusic
Conjure Bag - Dr. Don's Double Dose - 2005 - Piano/Vocals with
Rob Grosser
- Drums